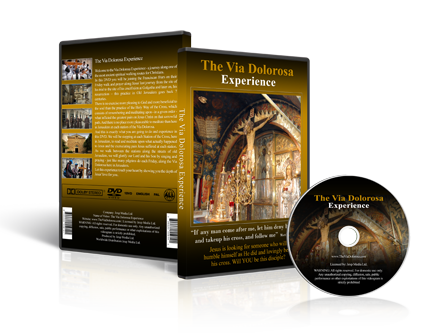 The Via Dolorosa Experience DVD is a new production by the team of Jexp Media Ltd., a leading Media Company, offering video tours of Jerusalem's holy sites as well as Christian events that take place here in the holy city.
In recent years, we have met with thousands of pilgrims who flock to Jerusalem from every corner of the world with one goal – to follow the footsteps of Jesus here and to be closer to God. The highlight of their visit is participation in the Franciscan weekly Friday walk and prayer on the Way of the Cross, along the Via Dolorosa.
CLICK BELOW to watch a TRAILER of the movie so you can get an idea of what you are in for when you watch the complete Movie:
Every year, thousands of pilgrims, from all over the world, flock to Jerusalem to enhance their faith in God by joining the Franciscan friars on their Friday walk and prayer. The friars walk along Jesus' last journey from the site of his trial to the site of his crucifixion at Golgotha and later on, his resurrection – this practice in Old Jerusalem goes back 7 centuries.
Now, for the first time, you can follow Jesus in his last hours on that sorrowful Friday, by joining this spiritual practice of walking and praying on the Way of the Cross along the Via Dolorosa here in Jerusalem – all you need to do is to watch this movie.
You can buy this dvd at:
Our Dedicated Website – please click at this banner: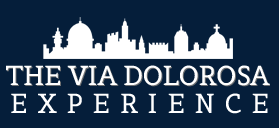 or you can buy it on AMAZON - Just click on this banner…and do not forget to buy it from us – Jexp Media Ltd.

 and do not forget to buy it from Jexp Media Ltd.
Come and carry your emotional and physical crosses along with Jesus. The Cross is not a symbol of defeat, but rather of the triumph of Faith.