Every year on Palm Sunday, Christians all over the world celebrate Jesus' triumphal entry into Jerusalem, exactly one week before his resurrection.
Jesus on his way to enter Jerusalem – Church of Bethphage, Jerusalem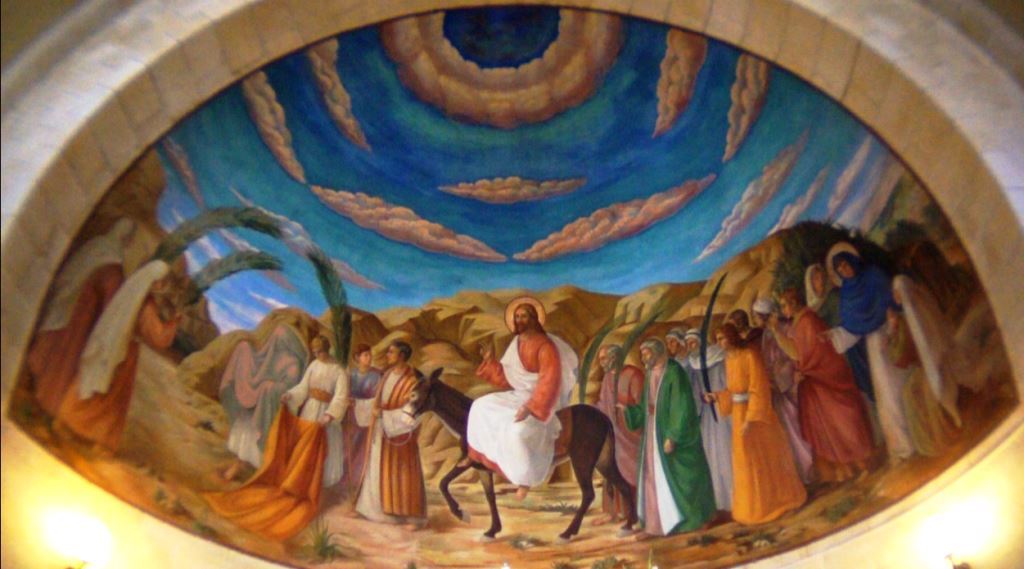 Some 450-500 years earlier, the prophet Zechariah had prophesied the same event: "Rejoice greatly, O daughter of Zion! Shout, O daughter of Jerusalem! Behold, your King is coming to you; He is just and having salvation, Lowly and riding on a donkey, A colt, the foal of a donkey" (Zechariah 9:9).
Palm Sunday is mentioned in all four canonical Gospels since what happened on that day is very important in understanding the sequence of the events that took place the week after (Holy Week) – Jesus' arrest, trial, crucifixion and eventually resurrection.
So let's start a couple of days earlier.
According to the Gospel of John, Jesus is in Bethany, an ancient village on the eastern slopes of the Mount of Olives, performing one of his most powerful miracles:, bringing Lazarus back to life, 4 days after he was already dead (not 1 or 2 days, but 4 days!).
Since this miracle was so powerful, word spread around rapidly and everyone was talking about it.
From Bethany, Jesus continues to a small village on top of the Mount of Olives and walking distance from Jerusalem. The Gospels tells us that when Jesus arrived at the Village of Bethpage (House of Unripe Figs) he sent his disciples to find him a donkey and a colt upon which he would ride into Jerusalem – just as mentioned in the first part of Zechariah's prophecy.
These two events explain the large number of people who came to see Jesus and to follow him on his way to Jerusalem.
Now let's read the Gospel of Matthew 21:7-9: "They brought the donkey and the colt, laid their clothes on them, and set Him on them. And a very great multitude spread their clothes on the road; others cut down branches from the trees and spread them on the road. Then the multitudes who went before and those who followed cried out, saying: 'Hosanna to the Son of David! Blessed is He who comes in the name of the LORD!' Hosanna in the highest"
There are two elements mentioned by Matthew. The first one is "spread their clothes on the road." In many lands in the ancient Near East, it was customary to cover in some way the path of someone thought worthy of the highest honor. The second one is "cut down branches from the trees and spread them on the road." Today we celebrate this with branches of palm, which was a symbol of triumph and victory in the Greco-Roman culture of the Roman Empire.
Now let's examine another aspect of Jesus' entrance to Jerusalem. Jesus entered Jerusalem riding a donkey, not a horse. The symbolism of the donkey may refer to the Eastern tradition that it is an animal of peace, versus the horse, which is an animal of war. A king came riding upon a horse when he was bent on war and rode upon a donkey when he wanted to point out he was coming in peace. Jesus' entry to Jerusalem would thus symbolize his entry as the Prince of Peace, not as a war-waging king.
The Gospel of Luke tells us another thing that happened as Jesus was approaching Jerusalem. "And when he was come near, he beheld the city, and wept over it" (Luke 19:41). As Jesus approached Jerusalem he suddenly stopped and looked at the city and its temple. Then Jesus started weeping over it, foretelling the suffering that awaited the city in much detail – a prophecy that fulfilled itself about 70 years later. Today, according to tradition, at the same spot there is a small church called Dominus Flevit ("The Lord Wept" in Latin) with a beautiful view of the old city of Jerusalem and Temple Mount – just as Jesus saw it.
So far we have examined this event through the eyes of Jesus' followers. Now let's examine it through the eyes of Jesus' opponents. Jesus' triumphal entrance to Jerusalem was perceived by the high priest and the Roman governor as an act of declaration that Jesus was the promised Messiah and the new King of Israel, and to make it even worse, Jesus' group of followers had even grown bigger, showing even more admiration and support. Many believe that, at this day, Jesus' opponents decided to act against him and that led to Jesus' arrest on Holy Thursday, his trial, and his condemnation to a death by crucifixion.
Your opinion is very IMPORTANT to me so please share it with me below: