We are now climbing along the way to Via Dolorosa station 9 which is the last station in the Via Dolorosa before we get into the Church of the Holy Sepulcher where Jesus was crucified, and where the last 5 stations on the Via Dolorosa are located. the 9th Station Via Dolorosa marks the place where Jesus falls for the third and last time.
Click here to go to Via Dolorosa – List of All Stations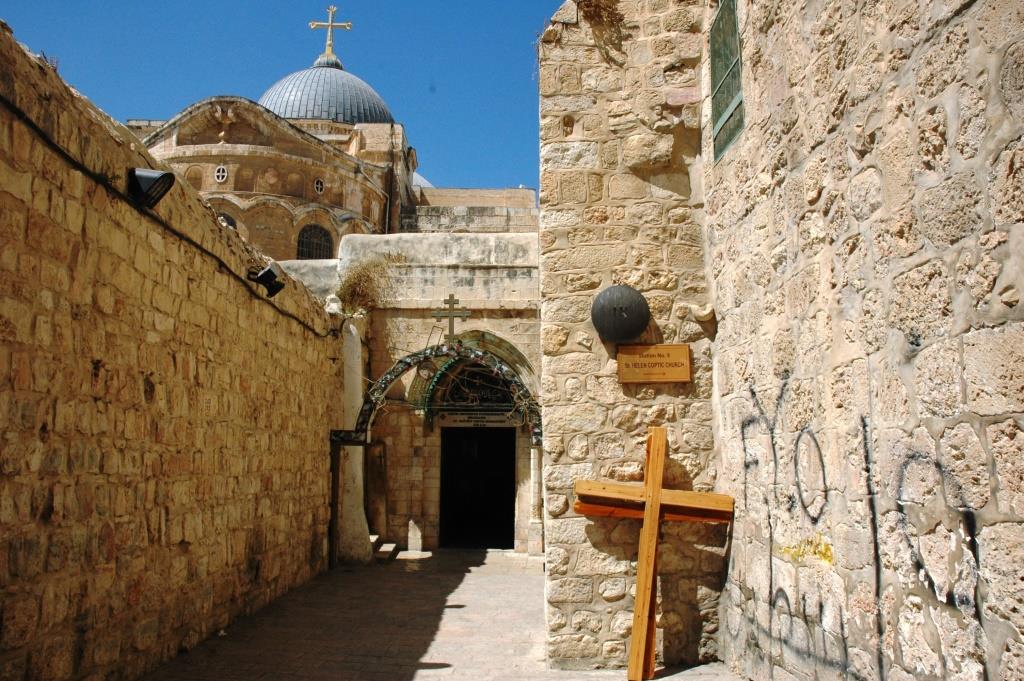 The 9th station Via Dolorosa is marked here on the wall with a roman letters and a cross painted on a column embedded in the wall. This station is located on the premises belonging to the Coptic Community – the Christians of Egypt. In addition to their chapel within the church of the Holy Sepulcher, the Coptic area contains the Patriarchate as well as a modest church leading to an impressive ancient water reservoir.
From this station we are crossing the border and entering the Ethiopian territory. The Ethiopian community has no foothold inside the church and his forced to make do with the roof of the Chapel of St. Helena inside of which according to Christian belief, the true cross was found.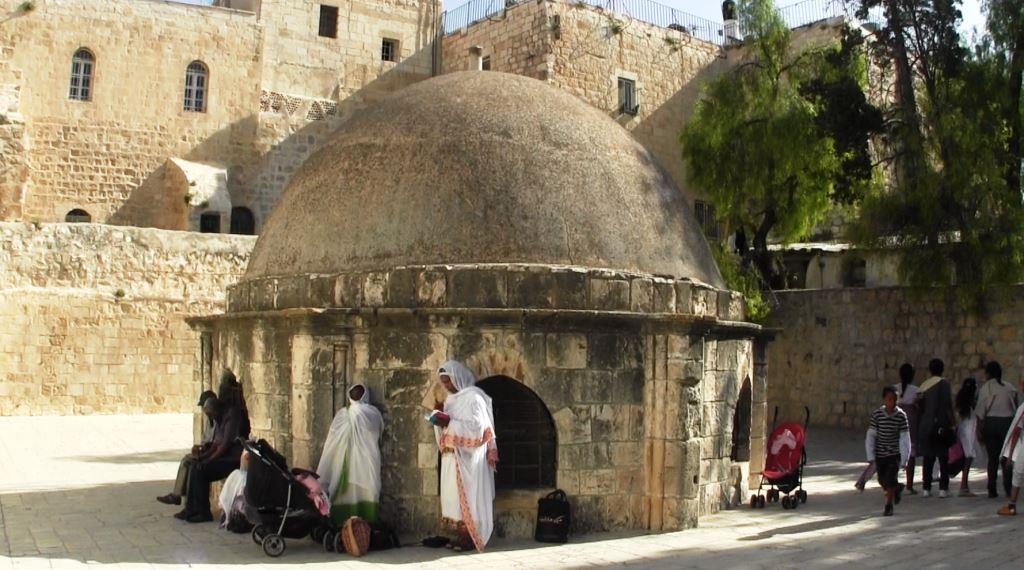 The roof, which is now known as Deir el-Sultan, served as a dining hall for knights during the Crusader period and remnants of its columns can be seen on the roof.
The first community that sent Christians to leave in Jerusalem back in the 4th century is the Ethiopian community.
We shall now enter the Ethiopian chapel on our way to the church of the holy sepulcher. Inside this chapel there is an interesting painting depicts the encounter between the Queen of Sheba and King Solomon. On the left side we see the gifts that the African queen brought to the wisest among men. On the right side we see King Solomon but please put attention to how King Solomon adorned himself in her honor and wore jewelry on his breast.
According to the Ethiopian monks, King Solomon gave them the ground they occupy when the black Queen of Sheba came to visit him. Their traditions holds that the Queen returned home pregnant, which is why the Ethiopian royal family traces its lineage back to King Solomon. To this day, one of the titles for the Ethiopian king is "Lion of Judah".
We are now reaching the square in front of the holy sepulcher.
I hope that you enjoyed this video about the 9th station Via Dolorosa Jerusalem.
I welcome your comments and suggestions to this video. It is essential that I learn what my viewers are interested in and how I can improve my blog.
That's it for now and until we meet again in my next video, Let's all live the Jerusalem Experience!!!!