40 days after his resurrection, Jesus ascended into heaven in his resurrected body from the top of Mount of Olives. And it is all happened right here at the Chapel of the Ascension Mount of Olives.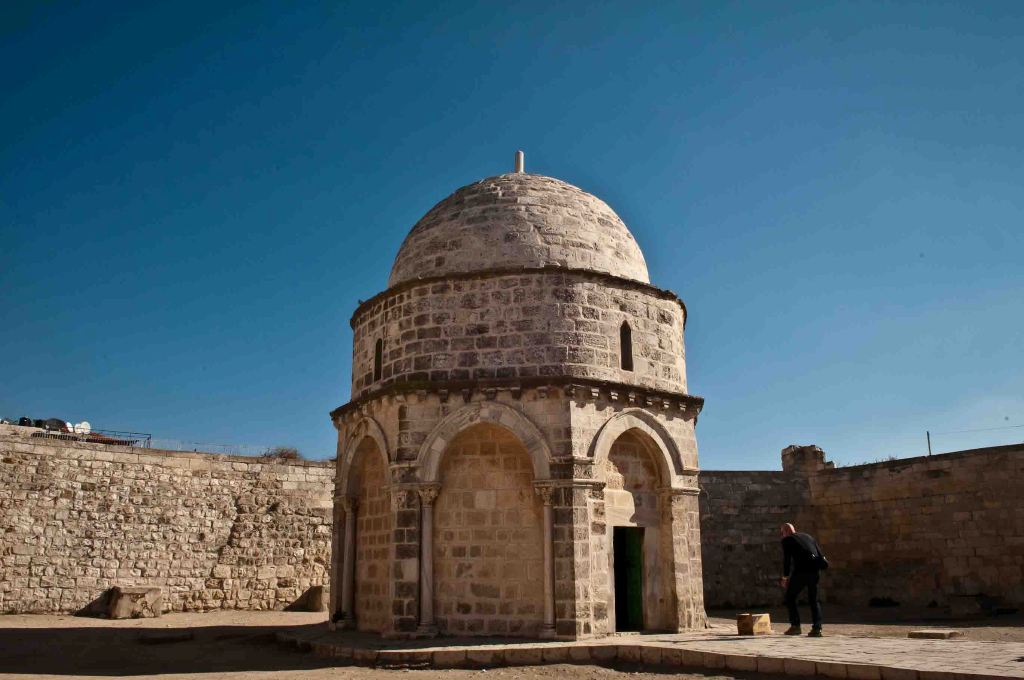 To watch the ACTUAL Celebration of the Ascension of Jesus into Heaven:
Catholic – click here to watch the video
Orthodox – click here to watch the video
The place of Jesus ascension to heaven is considered to be the second holiest site in Christendom. When St. Helena scouted Jerusalem, she has established the place of the Ascension of Jesus into heaven at a different location where it is today the Church of Pater Noster, not too far away from here. In 384 AD a pilgrim by the name of Egeria has founded two footprints embedded in the rock left behind upon Jesus ascension to heaven, and declare that here it is the precise point of Jesus Ascension.
Right after such a finding, a true round byzantine church was build surrounding the rook with the footprint of Jesus. The Byzantine church was destroyed and rebuilt several time but finally destroyed in 1198 AC by Salah al-Din. Since Jesus Ascension into heaven is also recognized in Islam, the holy rock and the surrounding colonnade were left intact. If we look around we can see the bases of the columns which were part of the last crusader church that was right here. The new owners of the place "Islamized" the site by sealing the spaces between the columns and topped them with a dome and added a Mihrab – a prayer niche in the wall facing Mecca. Moreover, a mosque and minaret were added next to the chapel in 1620 and the entire site remains in Muslim possession – that is why it is called Chapel/Mosque of the Ascension mount of olives.
Every year on the night of the Ascension of Jesus into heaven, pilgrims from all over the world are gathering in this Chapel of Ascension Jerusalem Israel to pray and be with Jesus in his last night on earth. On the morning after, ceremonies are taking place to commemorate the Ascension of Jesus to heaven.
Over there, next to the chapel of Ascension israel, there is a small burial crypt revered by all three monotheistic religions, but based on different beliefs about its occupant. Jews believe it contains the 7th-century BC prophet Huldah, one of seven female prophets mentioned in the Bible (2 Kings 22:14-20); Christians hold it to be the tomb of the 5th-century saint Pelagia; while Muslims maintain that the 8th-century holy woman Rabi'a al-Adawiya (for which the mosque is named) is buried here.
Click here to watch Pictures that we have from this site at Mount of Olives
That is for today, and until we meet again in my next video Let's All Live the Jerusalem Experience!!